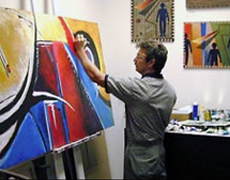 Morgan, R.T.
Born: Rome, Georgia, 1960
Majored in art marketing and production, St. Andrews Presbyterian College, Laurinburg, NC and Appalachian State University, Boone, NC.
Apprenticed under professional sculptor in 1986 R.T. has maintained a professional artist studio full time in the Appalachian Mountains since 186. His art is represented in galleries in the southeast and is placed in corporate and private collections throughout the world. In 2002, R.T. Morgan Art Gallery; a 1750 square foot gallery showcasing various artists as well as R.T., was established in downtown West Jefferson, NC.

"Since I've been a professional sculptor and artist for two decades and involved in art for over thirty years, many people have concluded that I'm reaching my "full potential". This thought is totally inconveivable for me. Though middle-aged, I'm still a child with much to learn.

I've always believed that art is always inside the artist. His thoughts are almost constantly working the realm of art. Always designing, redesigning, creating, problem solving and dreaming. Artists must sort through these ever expanding thoughts and make the decisions as to which ones he wishes others to see. Only, then, when a physical product has occurred is it labeled "art". For myself, "full potential" is an unattainable goal. How can one reach such a point, when time is so limited but minds are not? In one lifetime an artist can create thousands of works, yet there are still thousands more in his mind that will only be seen by him.